You may think the metaverse will be a bunch of interconnected virtual spaces – the world wide web but accessed through virtual reality. This is largely correct, but there is also a fundamental but slightly more cryptic side to the metaverse that will set it apart from today's internet: the blockchain.
In the beginning, Web 1.0 was the information superhighway of connected computers and servers that you could search, explore and inhabit, usually through a centralized company's platform – for example, AOL, Yahoo, Microsoft and Google. Around the turn of the millennium, Web 2.0 came to be characterized by social networking sites, blogging and the monetization of user data for advertising by the centralized gatekeepers to "free" social media platforms, including Facebook, SnapChat, Twitter and TikTok.
Web 3.0 will be the foundation for the metaverse. It will consist of blockchain-enabled decentralized applications that support an economy of user-owned crypto assets and data.
Blockchain? Decentralized? Crypto-assets? As researchers who study social media and media technology, we can explain the technology that will make the metaverse possible.
Owning bits
Blockchain is a technology that permanently records transactions, typically in a decentralized and public database called a ledger. Bitcoin is the most well-known blockchain-based cryptocurrency. Every time you buy some bitcoin, for example, that transaction gets recorded to the Bitcoin blockchain, which means the record is distributed to thousands of individual computers around the world.
This decentralized recording system is very difficult to fool or control. Public blockchains, like Bitcoin and Ethereum, are also transparent – all transactions are available for anyone on the internet to see, in contrast to traditional banking books.
Ethereum is a blockchain like Bitcoin, but Ethereum is also programmable through smart contracts, which are essentially blockchain-based software routines that run automatically when some condition is met. For example, you could use a smart contract on the blockchain to establish your ownership of a digital object, such as a piece of art or music, to which no one else can claim ownership on the blockchain — even if they save a copy to their computer. Digital objects that can be owned – currencies, securities, artwork – are crypto assets.
Items like artwork and music on a blockchain are nonfungible tokens (NFTs). Nonfungible means they are unique and not replaceable, the opposite of fungible items like currency – any dollar is worth the same as, and can be swapped with, any other dollar.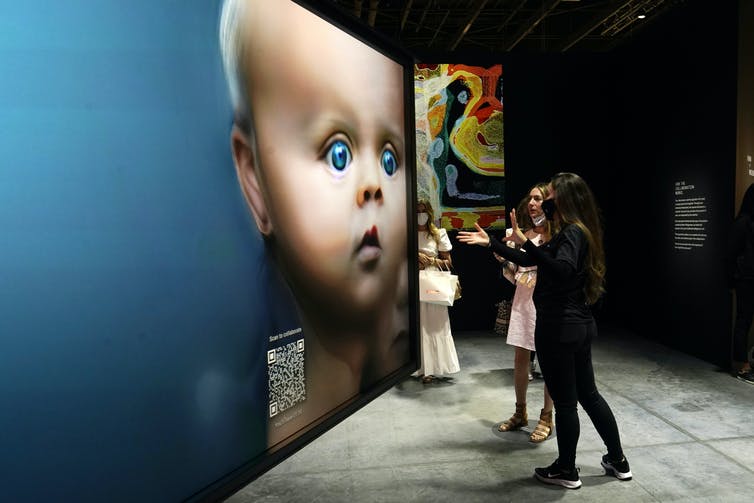 Importantly, you could use a smart contract that says you are willing to sell…