In the wake of Elon Musk's noisy takeover of Twitter, people have been looking for alternatives to the increasingly toxic microblogging social media platform. Many of those fleeing or hedging their bets have turned to Mastodon, which has attracted hundreds of thousands of new users since Twitter's acquisition.
Like Twitter, Mastodon allows users to post, follow people and organizations, and like and repost others' posts.
But while Mastodon supports many of the same social networking features as Twitter, it is not a single platform. Instead, it's a federation of independently operated, interconnected servers. Mastodon servers are based on open-source software developed by German nonprofit Mastodon gGmbH. The interconnected Mastodon servers, along with other servers that can "talk" to Mastodon servers, are collectively dubbed the "fediverse."
Mastodon U.
A key aspect of the fediverse is that each server is governed by rules set by the people who operate it. If you think of the fediverse as a university, each Mastodon server is like a dorm.
Which dorm you're initially assigned to can be somewhat random but still profoundly shapes the kind of conversations you overhear and the relationships you form. You can still interact with people who live in other dorms, but the leaders and rules in your dorm shape what you can do.
If you're particularly unhappy with your dorm, you can move to a new housing situation – another dorm, a sorority, an apartment – that is a better fit, and you bring your relationships with you. But you are then subject to the rules of the new place where you live. There are hundreds of Mastodon servers, called instances, where you can set up your account, and these instances have different rules and norms for who can join and what content is permitted.
In contrast, social media platforms like Twitter and Facebook put everyone in a single, gigantic dorm. As millions or billions of people joined, the companies running these platforms added more floors and bedrooms. Everyone could communicate with each other and theoretically join each other's conversations within the dorm, but everyone also has to live under the same rules.
If you didn't like or didn't follow the rules, you had to leave the megadorm, but you were not able to bring your relationships with you to your new housing – a different social media platform – or talk to people who stayed in your original megadorm. These platforms tapped into the resulting fear of missing out to lock people into a highly surveilled dorm where their otherwise private behavior was mined to sell ads.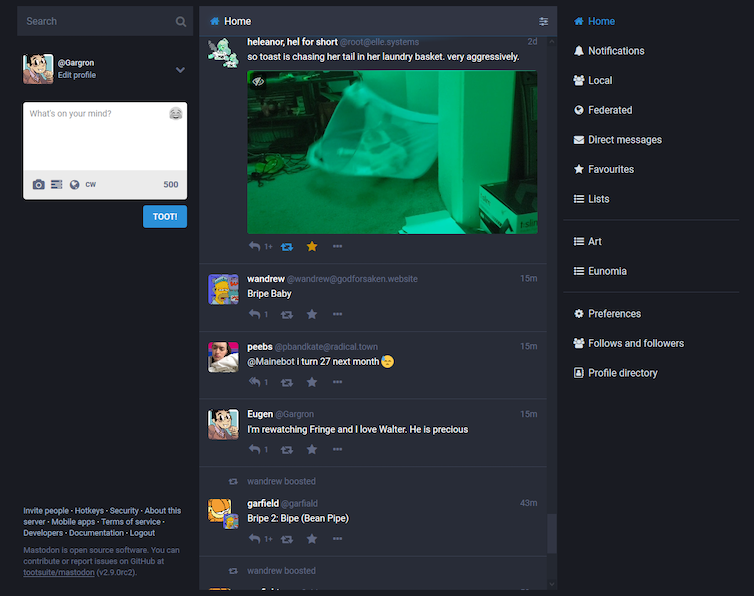 Incentives for good behavior
The big social media companies sell ads to pay for two primary services: the technical infrastructure of hardware and software that lets users…