China manufactures the Apple iPhone and many other popular smartphones, but there are lots of other options made in South Korea, Japan, Vietnam, Taiwan, and India.
Most of these phones are available directly from wireless carrier shops or directly from Samsung, LG, Motorola, ASUS, or Sony. Many can be found on Amazon and solid second-hand deals are present at places like Swappa. All of the phones are powered by the Android operating system. We listed the phones alphabetically — since prices vary and functionality and capability are so similar it is tough to rank order the phones.
ASUS ROG Phone 3 (Taiwan)
Image: ASUS

The ROG Phone 3 is now available for all of your high-powered gaming needs. It is powered by the latest Qualcomm Snapdragon 865 Plus processor, has 5G network capabilities, and a display with an industry leading 144 Hz refresh rate so your games play smoothly. With the massive 6,000 mAh battery you can work or play for hours.
12GB and 16GB RAM options are available with a generous 512GB of internal storage for all of your large game files. A 6.59 inch display is provided for gaming on the go. There are accessories for connecting external gaming attachments and now with XBox Game Pass available for Android phones you can enjoy your Xbox games on the go, streaming with 5G or WiFi 6.
You can purchase the 12GB model for $999.99 and the 16GB one for $1,099.99. In today's flagship smartphone world, these are actually reasonable price points for all of the power you are purchasing here.
Image: LG

While many phones on this list are flagships, there are also solid mid-range phones available to consider from countries other than China.
The LG Stylo 6 is one of the few phones we have to choose from that come with an integrated stylus. The Stylo 6 is available on multiple carriers in the US, including many pre-paid carriers. Pricing is in the $250 range, depending on the carrier and current promotion. It sports a 6.8-inch display with a 4,000mAh battery, triple rear camera setup, and 13MP front camera.
The focus of this phone is the stylus. You can handwrite notes, draw objects, sketch, and color. Animated text messages, GIF creation tools, and more are supported by the stylus.
Image: LG

Must read:
The LG V60 ThinQ 5G recently launched on T-Mobile, AT&T, and Verizon. It's only available in the US from one of these wireless carriers, but it may appear as an unlocked model on Amazon in the future.
This latest LG V series device continues to focus on video creation with a triple rear camera system, 8K video recording, four microphones, ASMR and Voice Bokeh audio technology, and advanced camera software. It's also powered by a massive 5,000 mAh battery with a 1080p display so it is sure to help you capture hours of video content.
The LG V60 ThinQ 5G is composed of two pieces of Gorilla Glass 5 with a metal frame and is certified for shock resistance to MIL-STD 810G. LG's new phone has a 6.8-inch OLED panel, Qualcomm Snapdragon 865, 8GB of RAM, 128GB of internal storage with a microSD card, and 5G. A Dual Screen cover is included for the $900 price and gives you a large platform for serious productivity.
Along with 5G and a focus on video capture, the LG V60 continues LG's tradition of audio excellence with a 3.5mm audio port with quad DAC support and stereo speakers. It sounds great through the speakers, but the wired headphone experience is even better. It's one of the last phones remaining with a 3.5mm audio port so audiophiles are sure to be pleased.
Image: Motorola

Must read:
ZDNet's Larry Dignan and I are both heavy Samsung Galaxy Note users and enjoyed taking this $300 note-taking alternative for a spin. Larry's article discusses his likes and dislikes, while my in-depth review is coming soon.
The Moto G Stylus is a well-built budget phone with a fairly stock Android experience with Motorola goodies. A big display, large capacity battery, interesting macro lens, capable 48MP shooter, and Snapdragon 665 processor make this a good phone for the masses.
At less than one third the price of the Galaxy Note, the Moto G Stylus doesn't have all of the advanced pen support we see in the Note series. However, you can take notes with the stylus, but it really only offers a fingertip experience with a bit more fine detail.
Must read:
The Samsung Galaxy Note 20 Ultra is arguably one of the best smartphones available today and is clearly worthy of an upgrade for Note 9 and earlier owners. It brings nearly all of Samsung's latest mobile technology, along with an extremely capable S Pen.
The Galaxy Note 20 Ultra is an excellent enterprise smartphone with a Qualcomm Snapdragon 865 Plus processor, massive amounts of fast RAM, fast internal storage, capable rear triple camera system, and much more. It has 5G support for all US carriers and included ultra-wideband technology for future connectivity. The new 120Hz adaptive refresh rate display is glorious too.
The Samsung Galaxy Note 20 Ultra has a Link to the Windows button in the quick controls area along with support for the latest version of DeX. Extending it to an external monitor with Samsung DeX is quick and easy, while also providing a full functioning desktop experience. The additional capability to charge up other devices and gear, such as the Galaxy Buds, via wireless technology on the back of the Note 20 is convenient for road warriors.
The Galaxy Note 20 Ultra starts at $1,299.99, but keep an eye out for special offers from Samsung and wireless carriers.
Must read:
Samsung announced the Galaxy S20 series a few months ago and phones are now available for consumers. After spending a couple of weeks with the S20 Ultra 5G, it is clear the phone is built for business and captures the crown for the best 5G device available today.           
The focus on the S20 line this year is universal 5G and improved camera experiences. There are some focus issues Samsung is currently dealing with on the S20 Ultra and while you may not want to pay $1,400+ for that phone right now, the S20 Plus may be more appropriate.
Samsung's S20 series devices are powered by a Qualcomm Snapdragon 865, AMOLED 120Hz refresh rate displays ranging from 6.2 to 6.9 inches, 12GB RAM (with 16GB option), 128GB to 512GB storage options with a microSD for even more capacity, three rear cameras (the Ultra has unique camera specifications), IP68 rating, WiFi 6, and Bluetooth 5. Battery capacity ranges from 4,000mAh to 5,000mAh. The S20 does not support high band (mmWave) faster 5G networks so make sure you pick the device that will fit your network needs.
An argument can be made that the S20 series isn't the best smartphone available today, but in terms of 5G and the latest technology, they are tough to beat. The price makes them a bit tougher to justify, but when you realize how this tool is used constantly the price for the value is easier to comprehend.
Must read:
Sometimes you need a phone to help you get work done out in the field and Samsung Galaxy XCover Pro is optimized for this experience. While the left side button was first setup for Push-to-talk service at launch, Samsung recently rolled out support for Microsoft Teams.
The Galaxy XCover Pro has a 6.3 inch display, 4GB RAM, 64GB internal with microSD, dual rear cameras, and 4050 mAh battery. It has an IP68 dust/water resistant rating and MIL-STD 810G shock protection. Unlike rugged phones on the past, this phone is slim and sleek. It is also reasonably priced in the $500 range so you are not paying extra for the protection.
The phone is built with Pogo Pin support so that businesses can connect peripherals or charge up a host of phones quickly and easily. It is also mPOS ready with EMV Level-1 technology.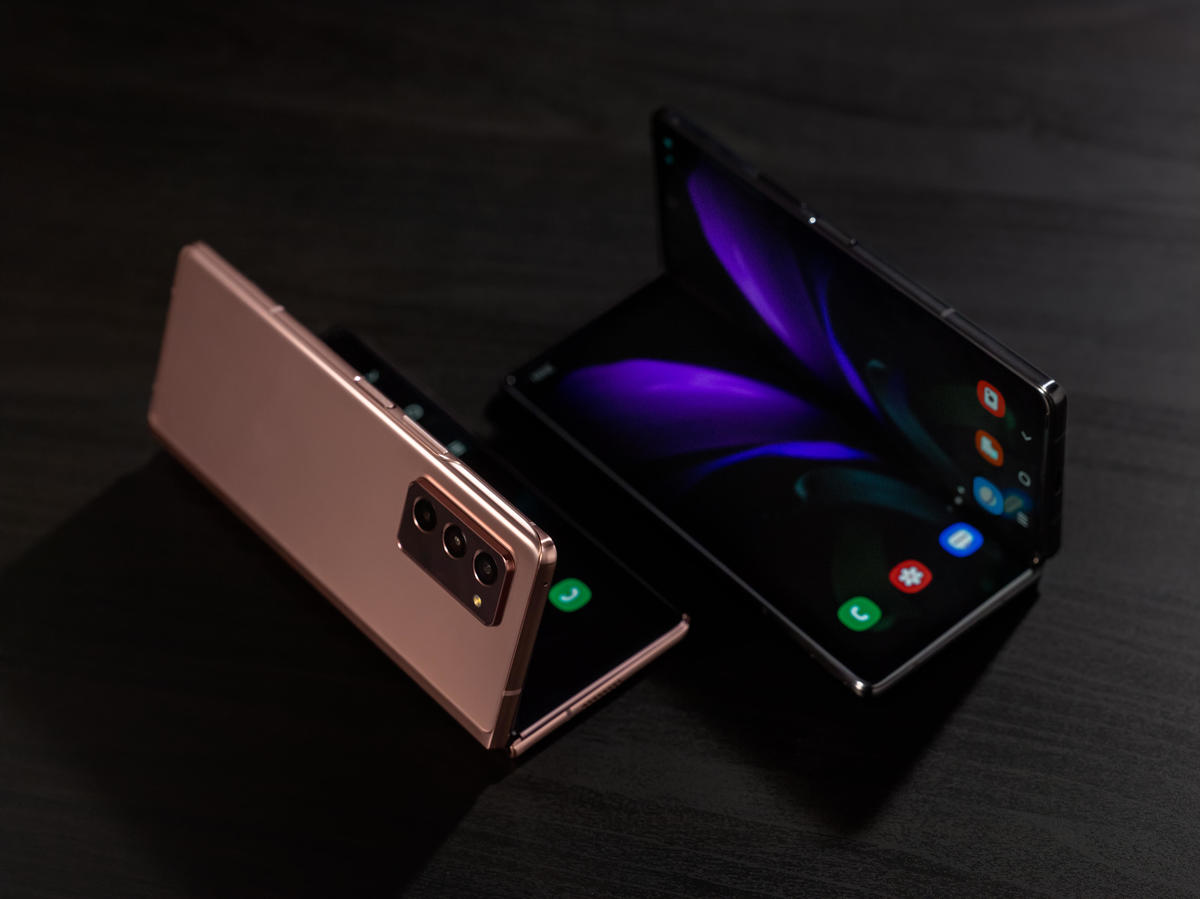 Must read:
While this is a very expensive phone, if you use your phone daily to get work done and want a phone that serves as a tablet too then it's a bit easier to justify the Samsung Galaxy Z Fold 2. I bought a black one with red metallic hinge and I can't put it down.
Everyone who sees me using it is fascinated by Samsung superb engineering prowess. This is the third iteration of the Galaxy Fold and Samsung has hit near perfection with it. The folding mechanism is flawless, the software has been greatly improved to support a number of productive use cases, and the outside display has been significantly improved.
Powered by a Snapdragon 865 Plus, the 7.6 inch main display is a joy to use. Foldable glass is used on this display with a lovely 120Hz adaptive experience. The 6.2 inch outside display matches the experience of standard phones too.
The fastest RAM, fastest internal storage, and all of the latest Samsung technology is packed into this capable smartphone.
Image: Sony

Must read:
The new Sony Xperia 1 II (pronounced mark two) is available now starting at $1,199.99. It's a solid flagship smartphone with today's best mobile processor, ample RAM, high-end photography, and more.
Sony announced that its Alpha camera engineers helped develop the cameras on this new flagship and that gets me excited since we have seen sub-par performance on Sony smartphone cameras when compared to the competition. Finally bringing some of Sony's amazing digital camera technology to its phones is welcome.
In addition to the camera experience, Sony is focused on the visual experience in this new phone with its 4K HDR OLED display and Dolby Atmos forward-firing stereo speakers. Gaming is also enhanced with the device so it is likely to appeal across the entertainment spectrum.
Sony Xperia 5 II (Japan)
Image: Sony

The new Sony Xperia 5 II follows up the Xperia 1 II in a smaller form factor. In the past Sony was known for releasing compact versions of its flagship phones and that is where the Xperia 5 II comes in.
While a bit smaller in size, there are no compromises on specs. The phone is powered by a Snapdragon 865 processor, 4000 mAh battery, 8GB RAM, 128GB storage with microSD card, 120Hz display, triple rear cameras, IP68 dust and water resistance, and more. It even still has a 3.5mm audio port, which is rare today.
The Sony Xperia 5 II is available to order for $949.99. However, it may not ship until late November or December.