Arati Prabhakar has been sworn in as director of the Office of Science and Technology Policy and assistant to the president for science and technology after being confirmed by the U.S. Senate, two months following her nomination by President Joe Biden. As the director of OSTP and assistant to the president, she now serves as the confidential science adviser to the president and is also accountable to Congress. Prabhakar is both the first woman and first person of color to hold this role.
I had the pleasure of getting to know Prabhakar during the Clinton administration when she was the director of the National Institute for Standards and Technology and I was director of the National Science Foundation. In 1998, President Bill Clinton selected me to be his director of OSTP and assistant to the president for science and technology, a position I held until the end of the administration in 2001.
These positions at the National Science Foundation and Office of Science Technology and Policy gave me different perspectives on how the federal government carries out its multiple complicated roles supporting science and technology, as well as a sense of some of the challenges Prabhakar faces. By focusing on cooperation among federal agencies and the White House offices in addressing the president's goals, she can help ensure that the U.S. science and technology enterprise rises to the many difficulties the country faces today.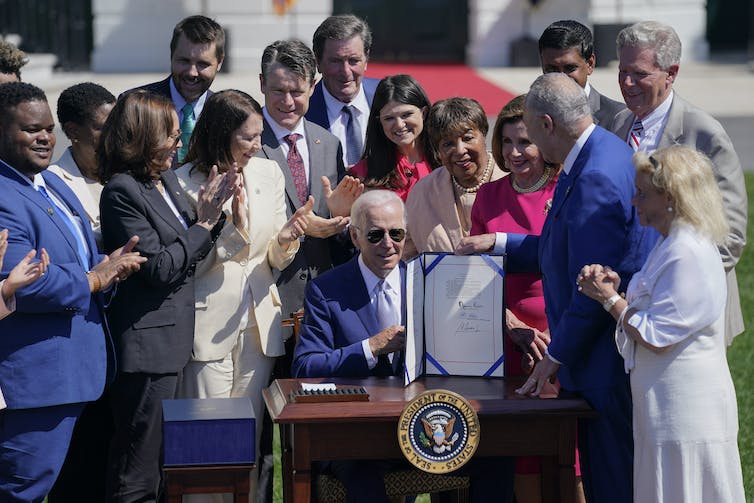 Eyes on innovation
Born in India, Prabhakar immigrated to the U.S. in the 1960s, obtained a doctorate in applied physics from the California Institute of Technology and has had a distinguished career in both government and industry. She has held leadership positions in several technology and venture capital companies. Her most recent federal appointment was as director of the Defense Advanced Project Agency, or DARPA, under Barack Obama.
Today, the U.S. faces a number of existential challenges ranging from climate change to future pandemics, to competition from China, to social inequality – all of which will require harnessing the power of science, technology and innovation. In Prabhakar's Senate testimony, she described how the OSTP is the only place in the federal government that focuses on the overall health and global standing of U.S. science and technology capability. The full spectrum of exploration, discovery and implementation fall under her purview – from very basic, fundamental research to putting technological innovations into the market.
Biden shares this belief in the vital role of science and innovation, as does Congress. The recently passed the bipartisan CHIPS and Science Act promotes general research and development and semiconductor manufacturing capability, specifically…