9.55pm BST21:55
That's it for tonight, after another tumultuous evening in the House of Commons.
To recap, MPs voted 340 to 256, majority 84, in favour of the United Kingdom Internal Market Bill at its third reading, despite warnings that the legislation threatens the Union and the country's global reputation.
Ministers have defended powers contained in the bill, which gives them the opportunity to override the Brexit divorce deal. The Bill will undergo further scrutiny in the Lords at a later date.
The government was forced to compromise earlier in the bill's passage in the face of a Tory backbench rebellion, which resulted in changes to give MPs a vote before ministers can use the powers which would breach the Withdrawal Agreement brokered with Brussels last year.
Tonight, however, no Conservative MPs rebelled to oppose the bill, according to the division list. Those who did not record a vote included former prime minister Theresa May who voiced concerns about the bill.
Read our full story here:
9.38pm BST21:38
Theresa May did not vote in tonight's House of Commons vote on the controversial Internal Markets Bill.
There was speculation she would vote against the bill, after she criticised the government for acting "recklessly and irresponsibly" with the legislation, which would allow ministers to override the Withdrawal Agreement signed with the EU.
However, records show that she did not cast a vote. No Conservative MPs rebelled to oppose the bill, according to the division list.
A total of 21 were listed as recording no vote but this does not necessarily indicate an abstention, and their absence can be for several reasons.
Along with May, those who did not record a vote included former attorneys general Geoffrey Cox and Jeremy Wright, who both voiced concerns about the bill.
8.51pm BST20:51
The SNP has responded to the Internal Market Bill passing its final hurdle in the Commons, calling it a "power grab bill"
Ian Blackford MP, the SNP's Westminster leader, said:
By undermining devolution and blatantly ignoring the wishes of the people of Scotland the Tories are burying the idea of the UK as a partnership of equal nations.

The Tories have launched the biggest power grab in the history of devolution … The Bill will not only rob the devolved governments of powers over devolved matters and hoard them in Westminster, it will also signal a race to the bottom in food and environmental standards.
Earlier, the Scottish government set out its opposition to the bill – stating that it undermines devolution and breaches international law. It will recommend that the Scottish parliament declines to grant consent to the bill.
One of the bill's main aims is to empower ministers to pass regulations, specifically on trade and state aid, even if they are contrary to the withdrawal agreement previously reached with the EU under what is known as the Northern Ireland protocol.
The government declared the legislation will "enable the UK government to provide financial assistance to Scotland, Wales, and Northern Ireland with new powers to spend taxpayers' money previously administered by the EU".
8.37pm BST20:37
Brexit Bill passes final House of Commons hurdle
The UK Internal Market Bill, which would give the government the power to override the Withdrawal Agreement with the EU, has passed its final hurdle in the House of Commons, with 340 ayes and 256 noes.
There has been significant Tory rebellion over the controversial bill that breaches international law, and there is much speculation over which way Theresa May voted this evening – she has previously condemned the bill as "reckless" and "irresponsible".
The bill will now move to the Lords, where Johnson faces potentially stiffer opposition, not least from Michael Howard, the former Tory leader who has also condemned the law-breaking plan.
However, the timetable for the Lords has yet to be set out, prompting more speculation that the contentious elements might be aimed more as a negotiating stick for the EU rather than an urgent legal necessity.
Updated
at 8.57pm BST
8.35pm BST20:35
Speaking for Labour on Tuesday, the shadow business minister Lucy Powell said the government was being reckless with the Brexit bill and "using Northern Ireland as a pawn in a wider negotiating strategy".
She added: "The government are playing a dangerous game, and it's the people and businesses of Northern Ireland who risk paying the price."
However, it is widely assumed the bill will progress easily, even with Labour and other opposition parties voting against it.
This is because almost all the Tory rebels are expected to back down, even if some told the Guardian they were only doing so with misgivings, and because the tight Brexit timetable meant the bulk of the bill needed to be in law.
Tobias Ellwood, the former defence minister who abstained in the last vote, said he and some colleague would support the bill out of necessity.
Many people will be far from content, but they recognise the politics of where we sit. We're just running out of time. If a number of planets were to align we would find ourselves in a worse place where the absence of this legislation could cause more problems on top of no deal.

No deal would be damaging on so many fronts, but for us not to have the basis for an internal market in place, which 80% or 90% of this bill focuses on – you've got to have it in place by 1 January
8.22pm BST20:22
MPs to vote on controversial Brexit bill
A controversial government Brexit bill that breaches international law is expected to pass its final reading in the House of Commons this evening, despite misgivings among Conservative MPs.
The internal market bill, which primarily sets out technical post-Brexit details involving the devolved nations, also gives ministers the power to unilaterally re-write elements of the withdrawal agreement with the EU.
The provisions in the bill have prompted significant disquiet, particularly after the Northern Ireland secretary, Brandon Lewis, told the Commons earlier this month that they did break international law "in a very specific and limited way".
The subsequent furore saw two Conservative MPs vote against the bill at its initial Commons vote, with 30 more abstaining, although some of these did not vote because they were absent.
There had been speculation that Theresa May could vote against the third reading tonight, although her aides refused to say what her plans were.
7.15pm BST19:15
Local lockdowns announced in North Wales
New coronavirus restrictions are being introduced in four local authority areas in north Wales.
The measures will come into force at 6pm on Thursday 1 October in Denbighshire, Flintshire, Conwy and Wrexham.
The latest announcement, which affects 504,956 people, means a total of 2.3 million people in Wales are now under tougher coronavirus restrictions.
Vaughan Gething, Wales' health minister, said: "Large parts of Wales will now be subject to local restrictions but I want to be clear – this is not a national lockdown.
"These are a series of local restrictions to respond to rises in cases in individual areas."
6.16pm BST18:16
Early evening summary
The UK has recorded 7,143 new coronavirus cases – the highest ever daily total. That is more than 3,000 more than the figure yesterday (when the number was depressed because of the weekend) and 269 more than the previous high (6,874 four days ago). And it is higher than anything recorded at the start of the pandemic. But that comparison is potentially misleading because testing is much more widespread now than it was in March and April, when the first wave of coronavirus was at its peak. (See 4.43pm and 4.50pm.)
That's all from us for now.
A colleague may be picking up the blog later to report on votes on the internal market bill. There is a round of voting starting now, and then the third reading vote a bit later this evening. We're not sure yet whether there will be much of a Tory revolt. Theresa May spoke very strongly against the bill last week. She said that she could not understand how ministers could support it, and that she would not support it herself. But we don't know if she will vote against or abstain.
Our coronavirus coverage continues on our global coronavirus live blog.
6.15pm BST18:15
This is from John Roberts, an actuary and contributor to the Covid-19 Actuaries Response Group.
5.53pm BST17:53

Health officials have disclosed that 62 University of Aberdeen students have tested positive for Covid-19, many of whom visited a student bar close to campus called the Bobbin.
The cases had occurred in halls of residence, private flats and private-owned student halls across the city. "The cases are currently not being treated as a single cluster. Investigations are ongoing and efforts are being made to identify any linkages between them," a spokesman for NHS Grampian said.
He added that test and trace officials had visited the Bobbin, on King Street next to a sports and swimming complex used by the university, and taken customers lists away to help contact-tracing.
"There is currently no evidence of spread to the wider community and, working with the university, various control measures have been implemented in an effort to curb the risk of any further transmission," he said.
On Monday evening Aberdeen university said the behaviour of the vast majority of its students had been exemplary but it restated its threat to fine those who broke the rule of six regulations £250 or to consider suspension or expulsion of any who repeatedly flouted the rules.
Updated
at 5.54pm BST
5.49pm BST17:49
Reaction to Boris Johnson's skills speech
Here is a summary of some of the reaction to Boris Johnson's skills speech earlier. (See 2.58pm for a summary.)
Business groups liked it. This is from Joe Fitzsimons, head of education and skills policy at the Institute of Directors.
More action on skills will be absolutely essential to ensuring our economy is fit for the future, particularly as it recovers from coronavirus. More support for flexible learning is an important step in the right direction, while many employers will welcome the focus on upgrading our further education system.
And this is from Jane Gratton, head of people policy at the British Chambers of Commerce.
The government have listened to Chambers and taken an important step toward a more agile adult skills system in the wake of the pandemic.
But unions were sceptical. This is from Mary Bousted, joint general secretary of the National Education Union.
These steps to prevent loss of apprenticeships and support adults returning to study are welcome. But this is not 'building back better', it is simply building back from the cuts to the further education sector since 2010.
And this is from Jo Grady, general secretary of the University and College Union.
Further education is in dire need of funding, but that is because Conservative and coalition governments of the last 10 years have decimated it. It is remarkable that the prime minister has the audacity to lament a lack of funding for colleges and to criticise record student debt levels when they are the direct result of decisions taken by his party.
And here are comments from three education specialists.
This is from David Robinson, director of post-16 and skills at the Education Policy Institute.
While it is important to wait for the full details, these new measures are a positive step from the prime minister. Compared to other developed nations, there is a chronic lack of basic qualifications and skills among adults in England – our research shows that as many as 1 in 3 adults do not have a qualification equivalent to A-level or above.

"There is significant employer demand for these qualifications, and research shows that they lead to higher wages and productivity. It's right that the government is working closely with employers to establish a list of technical courses that will be part of this scheme.
This is from Laura McInerney, head of Teacher Tapp, a teaching app, and a Guardian education commentator.
And these are from Phil Baty at Times Higher Education.
"Parity of esteem" was the phrase Theresa May used when she (like Johnson today) said she wanted more equality between academic and technical education.
Updated
at 5.56pm BST
5.26pm BST17:26
Nick Forbes, the Labour leader of Newcastle city council, told the BBC this afternoon that Boris Johnson's confusion over the north-east regulations (see 12.47pm) "sends out the message that they just don't know what they're doing". He said:
They are making it up as they go along, and one of the reasons I have been so frustrated by the announcement they made yesterday, before we had chance to talk to them and get these kinds of details finalised, is that we have had 24 hours of chaos and confusion that was entirely avoidable.
4.56pm BST16:56
Today's figures on the coronavirus dashboard also show a small rise in the number of coronavirus patients in hospital in England on mechanical ventilation – 259, up from 245 yesterday. But the overall number of coronavirus patients in hospital in England is marginally down – 1,881, down from 1,883 yesterday.
4.50pm BST16:50
Here are some tweets that help to place the latest Covid case numbers (see 4.43pm) in context. This is the start of a thread from Raghib Ali from the MRC epidemiology unit at Cambridge University. (He posted it a few days ago, but the argument still holds.)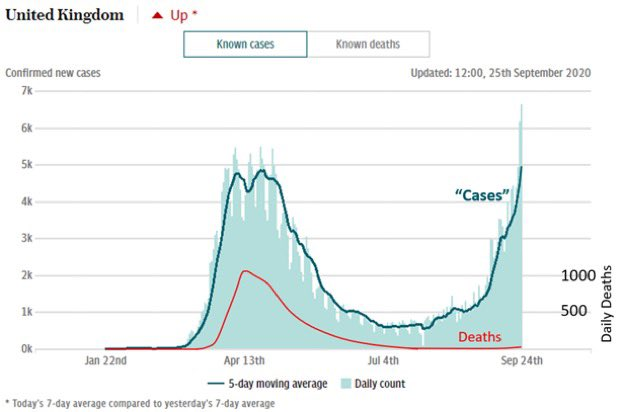 And this is from the New Statesman's Harry Lambert, highlighting a graphic in this week's Economist.

4.43pm BST16:43
UK gets 7,143 new coronavirus cases – highest ever recorded daily total
The UK government's coronavirus dashboard has just been updated. Here are the key figures.
The UK has recorded 7,143 new coronavirus cases – the highest ever daily total. That is more than 3,000 more than the figure yesterday (when the number was depressed because of the weekend) and 269 more than the previous high (6,874 four days ago). And it is higher than anything recorded at the start of the pandemic. But that comparison is potentially misleading because testing is much more widespread now than it was in March and April, when the first wave of coronavirus was at its peak. At that point, according to some estimates, new cases may have been running at well over 100,000 per day. According to the ONS survey (perhaps the most reliable guide), in mid-September new cases were running at around 9,600 per day in England. The graph makes it look as if the situation was worse than it was in the spring, but in reality it's not.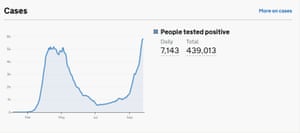 Updated
at 5.15pm BST