There are many attractive laptops now available for creative users, but often only a desktop computer can provide the compute power, screen size, and expandability required for high-end graphics, design, and video work.
In recent years, the elegant, all-in-one (AIO) designs of Apple's iMac have proved popular with many creative users and — as is so often the case — have inspired many similar designs from manufacturers of Windows PCs. Many of these designs are imitations bordering on the slavish, but some PC manufacturers have come up with interesting angles of their own, with features such as the adjustable, touch-sensitive display of Microsoft's Surface Studio, which can be lowered right down onto the desktop and used like a traditional drawing board for design and illustration work. Meanwhile, HP has outgunned the 27-inch iMac with imposing 32-inch and curved 34-inch AIOs.
The weakness with all-in-one designs such as these is, of course, their limited scope for expansion. It took Apple several years to revamp its ill-fated 'trashcan' Mac Pro, before finally launching a new Mac Pro at the end of 2019, but workstation-class tower systems are the bread-and-butter business of many PC manufacturers, so there's no shortage of powerful, expandable desktop systems available for Windows users.
Following the recent launch of the M1-based iMac, creators now have a wide choice of desktop platforms and form factors: Intel Mac (Mini, iMac, Mac Pro), M1 Mac (Mini, iMac), and Intel/Windows (mini-desktop, small form factor, AIO, tower). Here's a selection of ZDNet's top picks.

M1-based small form-factor Mac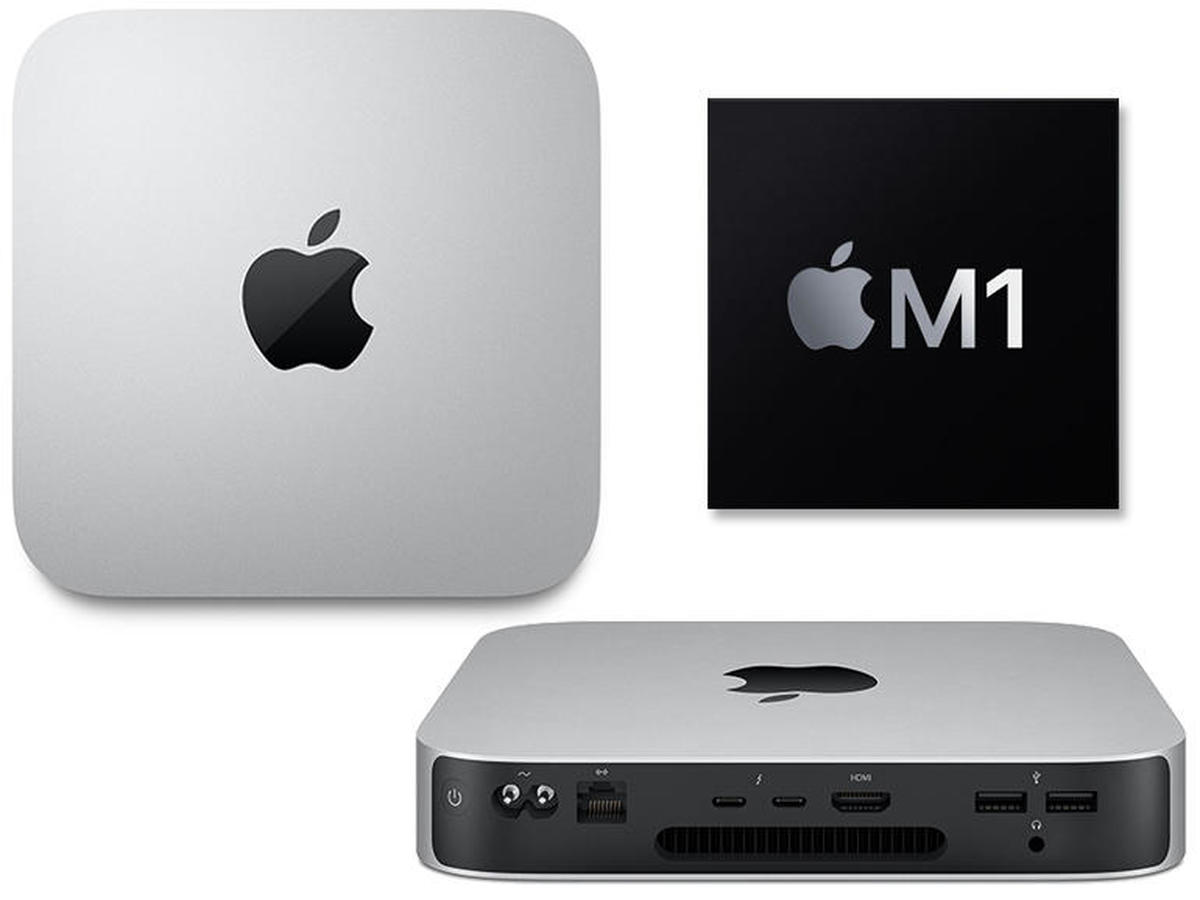 The Mac Mini has always been Apple's 'low-cost' Mac for home users, but the late-2020 release of a new Mac Mini based on Apple's M1 SoC gives the compact desktop system a considerable graphics boost that might attract the attention of space-limited creative users working from home.
Apple claims that the 8-core integrated GPU of the M1 processor provides a six-fold increase in graphics performance when compared to previous Mac Mini models, and our tests revealed very respectable performance for such a modestly priced system. And, unusually for Apple, the M1 Mac Mini even came with a price cut, now starting at $699 with 8GB of RAM and 256GB of solid-state storage.
Developers do need to update their software and apps in order to take full advantage of the M1's performance, but with Microsoft and Adobe already providing native versions of Office and Photoshop respectively, that process is well under way. It's just a shame that Apple continues to charge such high prices for its RAM and storage upgrades. 
Read review  Apple Mac Mini (late 2020)
If you like macOS and the Mac Mini form factor, but aren't convinced by the M1 platform, an alternative solution is to pair the Intel Mac Mini, which starts at $1,099 with an 8th-generation Core i5, 8GB of RAM and 512GB of SSD storage, and boost its integrated graphics performance with a powerful graphics card in a Thunderbolt 3-connected external GPU enclosure.
Apple's move to the Arm-based M1 SoC platform is clearly the future for the Mac (and high-end iPads), but Intel-based Macs will be around for a while — particularly at the professional end of the market, given that the M1 platform currently tops out at 16GB of RAM and is restricted to integrated graphics. It will be a while, too, before all key apps for creators are optimised for the M1 (although most will still perform well using Rosetta 2 automatic code translation).
In the meantime, the mid-2020 27-inch iMac running on 10th-generation Intel Core i5, i7 or i9 processors remains an attractive AIO option for creators. It lacks the expansion slots and user-upgradeability of the Mac Pro's tower enclosure, but the 27-inch Intel iMac does include an impressive 5K display (5,120 x 2,880 resolution, 217.6dpi) that supports the DCI-P3 colour space widely used in video editing, and comes with some powerful purchase-time options.
Apple's website offers three base configurations for the 27-inch iMac: $1,799 buys you a 3.1-4.5GHz 6-core Core i5 processor, 8GB of RAM, 256GB of SSD storage and AMD Radeon Pro 5300 graphics with 4GB of dedicated video memory; for $1,999 you get a 3.3-4.8GHz 6-core Core i5 CPU, 8GB of RAM, 512GB of SSD storage and 4GB Radeon Pro 5300 graphics; and $2,299 gets you a 3.8-5GHz 8-core Core i7 CPU, 8GB of RAM, 512GB of SSD storage and 8GB Radeon Pro 550XT graphics.
Customisation options include nano-texture glass, a 3.6-5GHz 10-core Core i9 CPU, up to 128GB of RAM, up to 8TB of SSD storage, 8GB Radeon Pro 5700 or 16GB Radeon Pro 5700 XT graphics, and 10-Gigabit Ethernet. Activate these to the max, and you're looking at a powerful but pricey system costing $8,599.
When Apple announced the move to Apple Silicon at WWDC in June 2020, it took care to point out that Intel-based Macs would continue to be delivered and supported for several years to come. The arrival in August of this powerful 27-inch iMac was proof of that, even if it did render the 2017 iMac Pro, now discontinued, redundant.
Read review: Apple 27-inch iMac (mid-2020)
When Apple finally unveiled the new version of the Mac Pro in 2019, some critics argued that Apple had taken six years to simply return to the aluminium tower design it had used prior to the 2013 cylindrical 'trashcan' Mac Pro.
However, the 2019-vintage Mac Pro is a different beast altogether, designed to tackle modern tasks such as 4K/8K video editing and VR, and it has done much to restore Apple's credibility with its most demanding professional users. And, with customisation options such as a 28-core Xeon processor on offer, it seems likely that the Mac Pro will hang on to its high-end Intel processors for a while.
Expansion has always been Apple's Achilles Heel, but the 2019 Mac Pro restored the expansion slots of previous models, with seven PCI-e 16 slots and support for twin Radeon GPUs. It's expensive, even by Apple standards, with a starting price of $5,999 or £5,499 (inc. VAT) or  for an 8-core Xeon W processor running at 3.5GHz (4.0GHz with TurboBoost), 32GB of RAM, a 256GB SSD, and a single Radeon Pro 580X graphics card with 8GB of dedicated video RAM. 
Extensive upgrade options include Xeon W processors with up to 28 cores (+$/£7,000), up to 1.5TB of RAM (+$/£25,000), two Radeon Pro Vega II Duo GPUs (+$/£10,800), 8TB of SSD storage (+$/£2,600), and an 'Afterburner' accelerator card that allows the Mac Pro to handle up to six streams of 8K video, or 23 streams in 4K (+$/£2,000). 
There's no display included in these prices, though, and at $/£4,999 Apple's own Pro Display XDR costs as much as a well specified 27-inch iMac with a 5K display.

Well-connected Windows mini-tower


Corsair is best known for its range of gaming PCs and accessories, but buried in the depths of its website is this solitary workstation system, the One Pro i200.
Rather than the bright, fluorescent lights that festoon Corsair's gaming PCs, the i200 is housed in a mini-tower chassis with a more sombre grey finish. But while the design isn't particularly imposing, the single configuration that's currently available has a 14-core Core i9-10940X processor running at 3.3GHz (4.4GHz with TurboBoost), 64GB of RAM, a 2TB SSD, and an Nvidia GeForce RTX 2080 Ti graphics card with 11GB of dedicated video RAM. This costs $4,499.99 or £4,699.99 (inc. VAT). In the US, you can click a 'configure' button and select a slightly cheaper ($4,199) variant with a 12-core Core i9-9920X CPU and more storage (1TB SSD + 2TB HDD).
The Corsair One Pro i200 is also extremely well connected, with three DisplayPort interfaces and one HDMI port providing support for multiple 4K displays. The audio subsystem is impressive too, with analogue and optical outputs capable of supporting a 7.1 speaker system. This means that the One Pro i200 will be well suited to audio recording and editing, as well as the graphics and video work that's the focus for most of its 'creator PC' rivals. There's little scope for further expansion, though, other than upgrading the internal storage.
Dell's OptiPlex all-in-one systems are perhaps the closest direct rivals for Apple's iMac and iMac Pro, offering 24-inch and 27-inch displays, and a variety of processor and graphics options. The 27-inch Optiplex 7780 is available in a range of configurations with 10th generation Intel Core (i5, 17, 19) processors and both integrated and discrete Nvidia GeForce GTX 1650 graphics, the latter being of most interest to creative users.
There are three preconfigured models in the US costing $1,839 (Core i9/16GB/256GB/iGPU/non-touch screen), $1,979 (Core i5/16GB/512GB/GeForce GTX 1650/touch screen) and $2,269 (Core i7/64GB/256GB/iGPU/touch screen). These are customisable 'build your own' configurations, with choices for processor (Core i5, 17, 19), RAM (up to 64GB) and storage (HDD up to 2TB, SSD up to 1TB).
There are eight preconfigured models in the UK, but only one, costing £1,419 (ex. VAT; £1,702.80 inc. VAT), comes with discrete graphics. There's no build-your-own option here, though, so you'll have to accept the Core i5 processor, 8GB of RAM and 256GB SSD.
Creative users will probably want to specify the optional OptiPlex All-in-One Articulating stand, which allows the monitor to recline to a 60-degree angle, making touch-screen variants much easier to use.

Configurable Windows/Linux tower workstation


As well as its attractive OptiPlex all-in-one systems, Dell also makes a range of workstations with more conventional designs. The recently updated Precision 7920 sits right at the top of the range, is available in either tower or rack configurations, and is aimed at virtual reality, 3D graphics and AI applications.
Customers in the US get five pre-built tower configurations (with some recent price cuts), starting at $2,219 for an entry-level 1.9GHz Xeon Bronze 3204-based system with 16GB of RAM, a 500GB 7,200rpm hard disk and an AMD Radeon Pro WX 2100 graphics card with 2GB of dedicated video RAM. The top-end pre-built system in the US runs Ubuntu Linux on dual 3GHz Xeon Gold 5217 processors, with 192GB of RAM, 256GB of SSD storage and an Nvidia Quadro RTX 6000 graphics card with 24GB of dedicated video RAM. This 'science'-oriented variant is considerably more expensive — $13,809 to be exact.
Dell's UK website lists one primary Precision 7920 configuration, which costs £2,602.82 (ex. VAT; £3,123.38 inc. VAT). This has a six-core 1.9GHz Xeon Bronze 3204 processor, 8GB of RAM, a 500GB 7,200rpm hard drive, and an AMD Radeon Pro WX 2100 graphics card. The dual-Xeon 'science' model costs £9,186.02 (ex. VAT; £11,023.22 inc. VAT) in the UK.
These configurations are just the starting point, though: in both the US and the UK, Dell provides dozens of build-your-own options for customising the Precision 7920. Max these out, and you can easily end up in six-figure territory.
The outstanding feature of HP's Envy 32 is, as the name suggests, its imposing 32-inch display, which is only beaten on the imposing front by HP's even bigger curved Envy 34. It's not just for show either, as the Envy 32's display supports HDR-600, with 600 nits brightness and 98% of the DCI-P3 colour space, making it suitable for a range of high-end graphics and video applications.
Customers in the US can get a configuration with a 10th generation Core i7-10700 processor, 16GB of RAM, 512GB SSD/1TB HDD storage and 8GB GeForce RTX 2070 graphics, which costs $2,299.99. Less expensive models with 9th-generation Core i5 and i7 CPUs are also available.
There are two configurations currently on sale in the UK, both based on the 9th generation 8-core Core i7-9700 processor running at 3.0GHz (4.7GHz with TurboBoost). At £2,299.99 (inc. VAT) the most affordable has 16GB of RAM, a 512GB SSD and a 1TB hard drive, plus an Nvidia GeForce GTX 1650 GPU with 4GB of dedicated video RAM. Spend £2,899.99 (inc. VAT) and you get 32GB of RAM, a 512GB SSD with 32GB of Intel Optane memory, a 2TB HDD and Nvidia GeForce RTX 2070 graphics with 8GB of video RAM.
As well as a large screen and decent specs, the Envy 32 offers a smart-looking minimalist design, a strong audio subsystem (designed in partnership with Bang & Olufsen), wireless charging built into the base and a good set of ports (Thunderbolt 3, USB-C, 2x USB 3.1, HDMI 2.0 in and out, and RJ-45 Ethernet).

Small form-factor Windows workstation


We were impressed by HP's Z2 Mini G4 when we first reviewed it back in 2018, as it provided workstation-level performance in an impressively compact design — rather like Apple's Mac Mini on steroids. It's taken HP quite a long time to update the Z2 Mini, but the latest G5 model remains an attractive and versatile entry-level workstation for graphics and technical applications.
The design of the Z2 Mini hasn't changed, and it still measures a very desktop-friendly 216mm square and 58mm thick. It'll fit neatly under an external monitor (not included in the price) lying flat or on its side, or into a rack-mount system with additional Z2 Mini G5 units for more heavy-duty work.
There's an entry-level model with a 10th-generation Core i5 processor and integrated graphics for around $1,000/£800, but you only need to step up to $1,484 or £1,146 (inc. VAT) to get a discrete Nvidia Quadro P620 graphics card. That price also includes an 8-core Core i7-10700 running at 2.9-4.8GHz, along with 16GB of RAM and 512GB of SSD storage.
At the time of writing (late April 2021), the top-end configuration available in the US was the $1,484 Core i7/16GB/512GB/Quadro P620 model, but in the UK, you can currently go up to a Core i9-10900K with 32GB of RAM, a 1TB SSD and  Nvidia Quadro T2000 graphics for £1,738.80 (inc. VAT). 

Configurable Windows/Linux tower workstation


The Z2 range is HP's entry-level workstation offering, but it's the Z4, Z6 and Z8 tower models that provide real high-end performance. The slimline Z4 is the most affordable option, while the Z8 sits atop the range for scientific simulations and 8K video editing. However, the sweet spot for creative users is probably the highly configurable fourth-generation Z6, which is designed for 3D graphics and rendering.
The tower chassis of the Z6 stands 445mm high, 465mm deep and 169mm wide, so it's going to need a bit of floor space to live on. However, it can accommodate both dual-CPU and dual-GPU configurations, along with multiple drive bays, providing plenty of scope for future upgrades.
HP's US website currently lists two prebuilt configurations: for $3,739 you get a 4-core Xeon Gold processor running at 3.8-3.9GHz, 16GB of RAM, 256GB of SSD storage and a secondary 1TB hard drive, and an Nvidia Quadro P1000 graphics card with 4GB of dedicated video memory. Alternatively, $4,459 gets you an 8-core 2.1-3.2GHz Xeon Silver processor, 32GB of RAM, a 256GB SSD and a 1TB HDD, and an 8GB Nvidia Quadro RTX 4000 graphics card.
You can also build a completely customised system, starting from a baseline costing $3,308. There's an extensive choice available, including Windows 10 Pro or Ubuntu Linux 20.04 for the operating system, future-proof dual-CPU and dual-GPU (Nvidia Quadro or AMD Radeon Pro) options, up to 384GB (6 x 64GB) of RAM, plus copious SSD and HDD storage options. Whatever level of performance and functionality you require should be achievable here, at a price.

AMD Threadripper Pro tower workstation


High-end PCs aimed at creative users tend to focus almost exclusively on Intel processors, but Lenovo's ThinkStation P620 claims to be the world's first workstation based on AMD's Ryzen Threadripper Pro.
The pre-built configurations available in the US and UK differ quite a lot — the UK even allows you to buy the tower unit with no graphics card or internal storage, and no pre-installed operating system. However, prices start at $2,099.02 or £1,699.99 (ex. VAT; £2039.99 inc. VAT) for a model with an impressive 12-core Threadripper Pro 3945WX running at 4-4.3GHz, along with 16GB of RAM, 256GB of SSD storage and Nvidia Quadro P620 graphics.
However, the range of upgrades that's available takes the ThinkStation 620 into an entirely different league, with options such as a 64-core Threadripper Pro 3995WX and dual Nvidia Quadro GV100 graphics cards, which take a top-of-the-range configuration to a price of $28,413.62 or £22,999.99 (ex. VAT; £27,599.99 inc. VAT). Alternatively, if you're after something a little more affordable, the previous-generation — Intel-based — ThinkStation P520 is still available.
Lenovo's Yoga brand mostly consists of convertible laptops and tablets, but in 2019 the company introduced the Yoga A940 all-in-one desktop, which is specifically aimed at designers.
The 27-inch display provides 4K resolution (3,840 x 2,160, 163.2dpi), and supports 100% of the Adobe RGB colour standard, as well as Dolby Vision HDR. Like Microsoft's Surface Studio, the Yoga A940 allows you to tilt the touch-sensitive display down onto the desk so that you can draw on it with the bundled digital pen. There's also a 'content creation dial' that can be attached to either side of the display — for left- or right-handed use — and programmed to activate specific tools or commands in apps such as Photoshop or Illustrator. Another nice touch is the wireless charging dock on the right-hand side of the base, with a groove for stowing the digital pen when it's not in use.
It's an attractive design that's well suited to graphics and illustration work. In the US, there are two off-the-page configurations: $2,099.99 buys you a Core i7-9700 processor running at 3-4.7GHz with 32GB of RAM, a 1TB hard drive (5,400rpm), a 256GB SSD and an AMD Radeon RX 560 GPU with 4GB of video RAM; the top-end model, which costs $2,449.99, is based around a Core i9-9900 with 32GB of RAM, a 1TB HDD and a 256GB SSD, and 4GB Radeon RX 560 graphics. The UK offering costs £2,499.99 (inc. VAT), for which you get a Core i7-9700, 16GB of RAM, a 1TB HDD and a 1TB SSD, and 4GB Radeon RX 560 graphics.
Microsoft's Surface laptops and 2-in-1s go from strength to strength, but the company seems less sure-footed with its solitary desktop offering, the all-in-one Surface Studio. While the entire Surface laptop range has had regular updates, the Surface Studio 2 has received little attention since ZDNet reviewed it in early 2019.
That's a shame, as the Surface Studio 2 has a lot going for it, including an attractive 28-inch display with a '4.5K' display offering 4,500-by-3,000 resolution (192dpi) and support for the sRGB and DCI-P3 colour standards that make it suitable for a wide range of graphics, design and video applications. It leans more towards graphics and illustration, though, with a 3:2 aspect ratio that's designed to emulate more traditional print-based design methods. There's also a 'zero gravity' hinge that allows the touch-screen to be lowered down onto the desktop so you can use it like a traditional drawing board with the bundled Surface Pen.
Microsoft offers three standard configurations for the Surface Studio 2 for Business, with all three based on the same 2017-vintage quad-core Core i7-7820HQ running at 2.9GHz (3.9GHz with TurboBoost). Prices in the US start at $3,499.99 for 16GB of RAM, a 1TB SSD and Nvidia GeForce GTX 1060 graphics with 6GB of dedicated video RAM; $4,199.99 buys you 32GB of RAM, a 1TB SSD and an 8GB GeForce GTX 1070, while the top-end $4,799.99 model boosts SSD storage to 2TB.
In the UK, these configurations cost £2,957.50 (ex. VAT; £3,549 inc. VAT), £3,540.83 (ex. VAT; £4,249 inc. VAT) and £3,957.50 (ex. VAT; £4,749 inc. VAT) respectively.