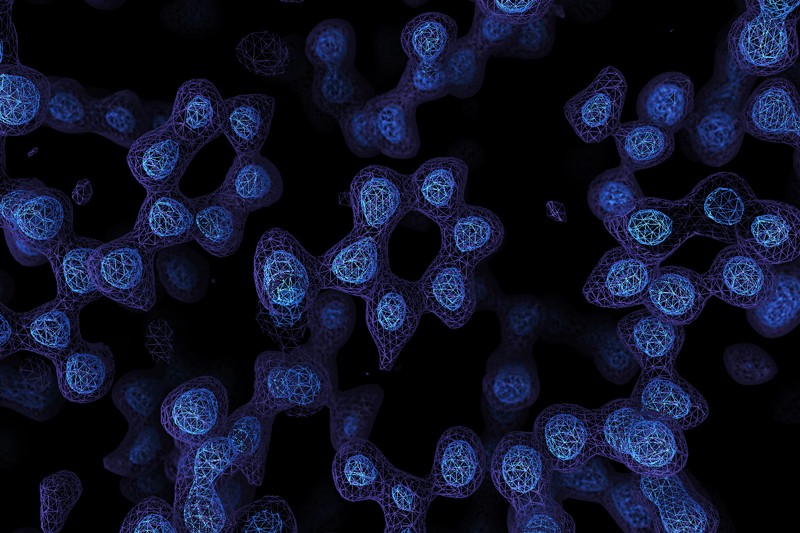 A game-changing technique for imaging molecules known as cryo-electron microscopy has produced its sharpest pictures yet — and, for the first time, discerned individual atoms in a protein.
By achieving atomic resolution using cryogenic-electron microscopy (cryo-EM), researchers will be able to understand, in unprecedented detail, the workings of proteins that cannot easily be examined by other imaging techniques, such as X-ray crystallography.
The breakthrough, reported by two laboratories late last month, cements cryo-EM's position as the dominant tool for mapping the 3D shapes of proteins, say scientists. Ultimately, these structures will help researchers to understand how proteins work in health and disease, and lead to better drugs with fewer side effects.
"It's really a milestone, that's for sure. There's really nothing to break anymore. This was the last resolution barrier," says Holger Stark, a biochemist and electron microscopist at the Max Planck Institute for Biophysical Chemistry in Göttingen, Germany, who led one of the studies1. The other2 was led by Sjors Scheres and Radu Aricescu, structural biologists at the Medical Research Council Laboratory of Molecular Biology (MRC-LMB) in Cambridge, UK. Both were posted on the bioRxiv preprint server on 22 May.
"True 'atomic resolution' is a real milestone," adds John Rubinstein, a structural biologist at the University of Toronto in Canada. Getting atomic-resolution structures of many proteins will still be a daunting task because of other challenges, such as a…